Mixed choir Vokollage
Vokollage is a very friendly choir of about 25 musicians. The choir's motto is: everyone can sing, only some still need to discover this talent. Over the past few years, Vokollage has organized a number of fantastic concerts during which a repertoire containing a large variety of musical styles was performed, including jazz, classical music and sometimes even hip-hop! The choir often collaborates with resident orchestras Ensuite, Auletes and choirs from other parts of the Netherlands. Ruud Huijbregts, professional conductor and organ player, conducts the choir.
Every Tuesday evening Vokollage rehearses from 19:30 until 22:00 on the campus of the university in Eindhoven, after which they can be found having some drinks at the bar.
Conductor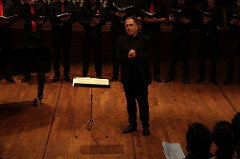 Ruud Huijbregts